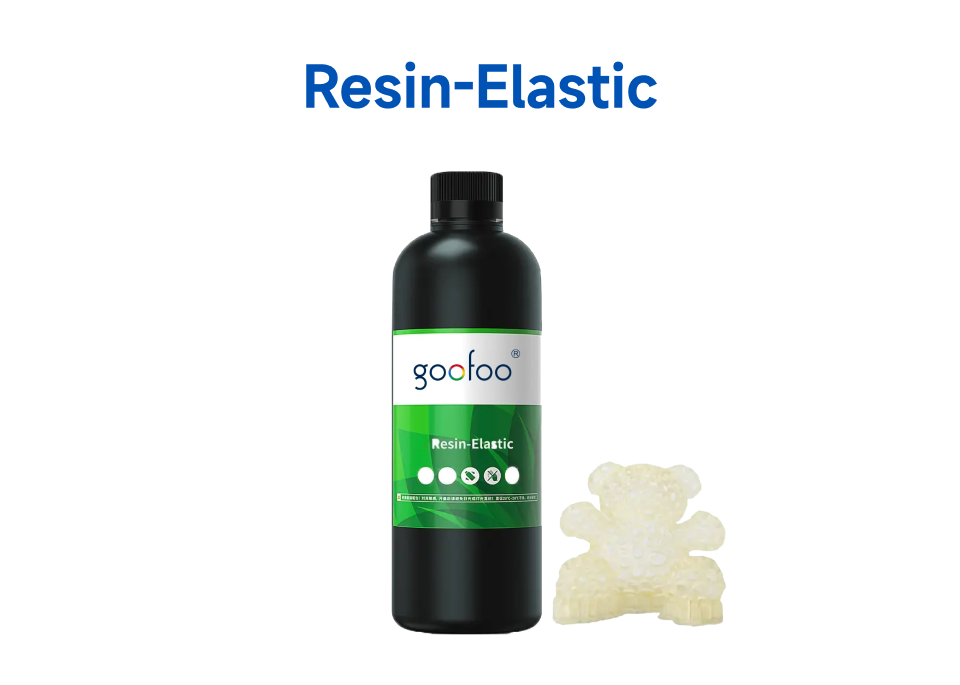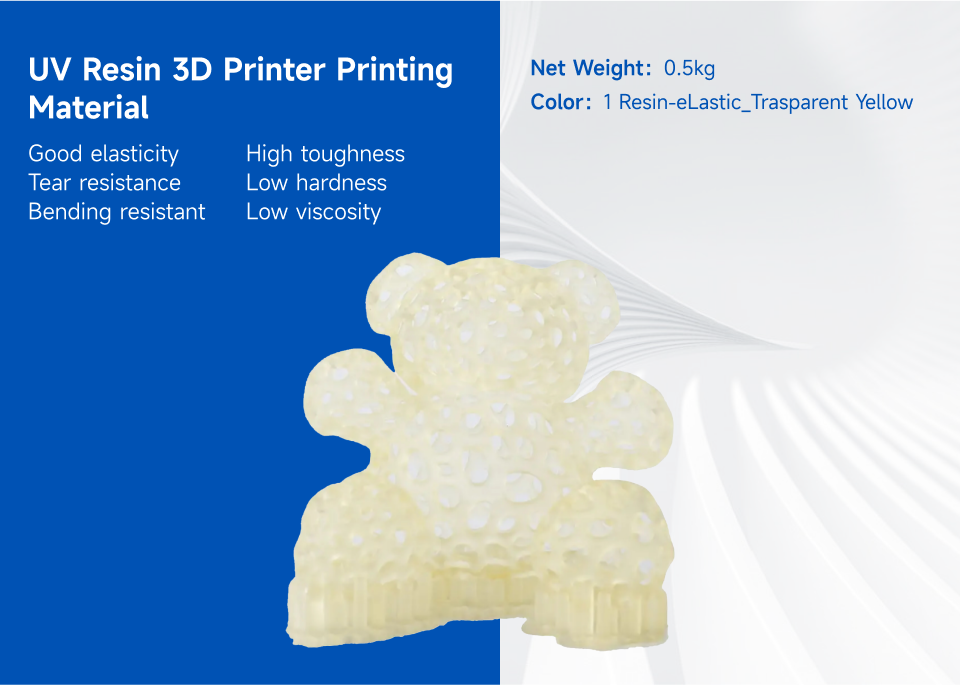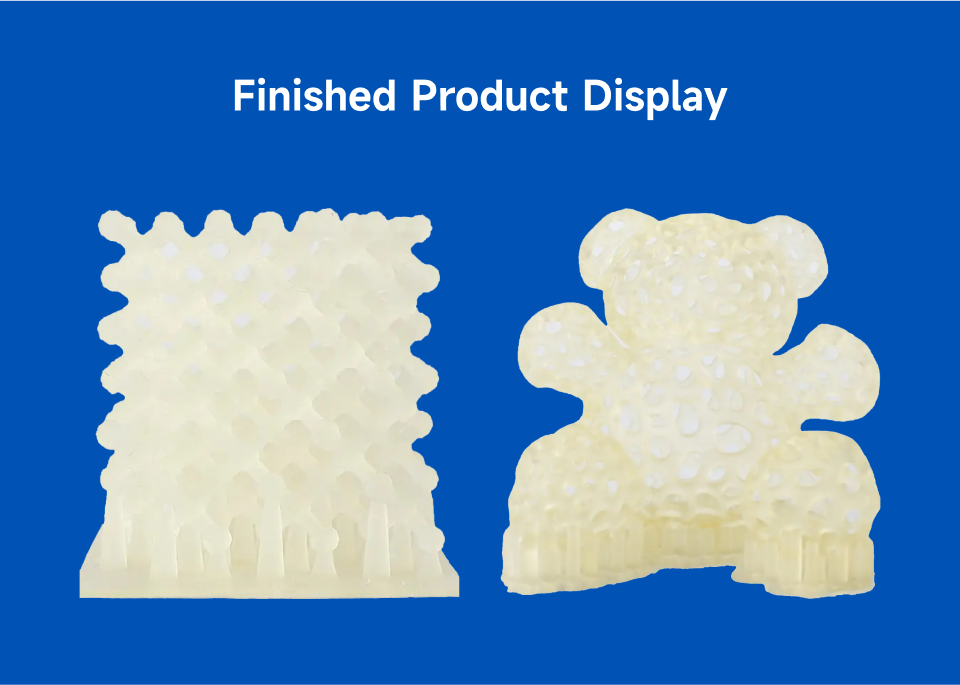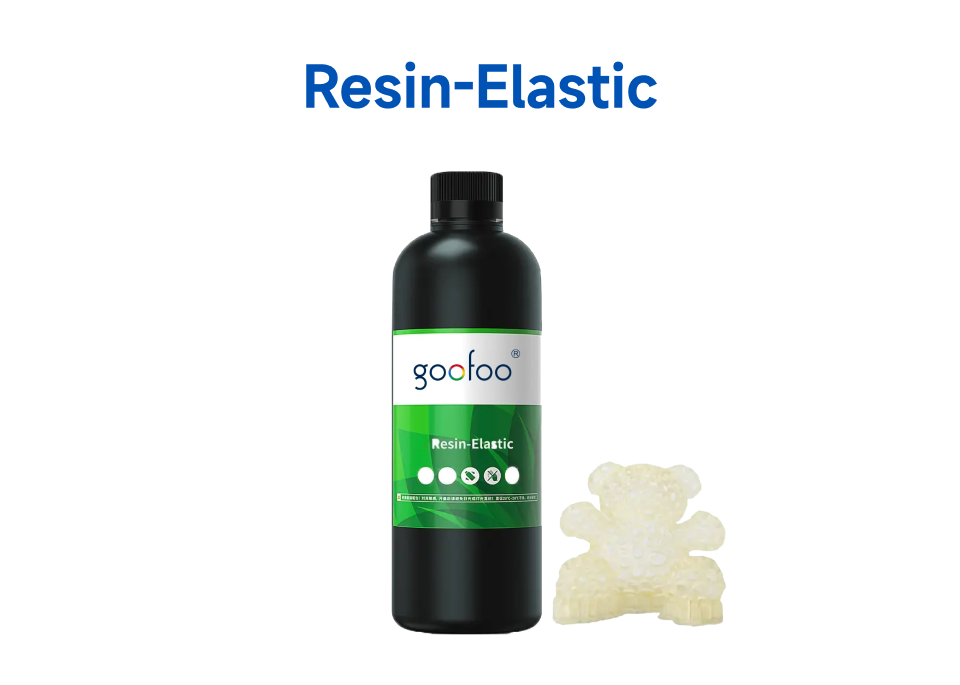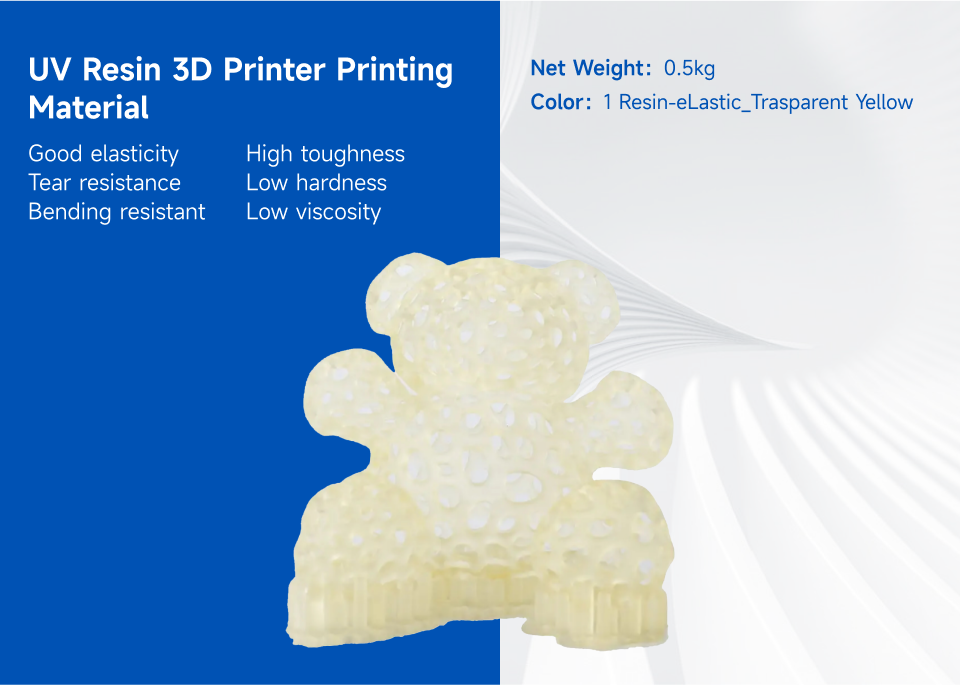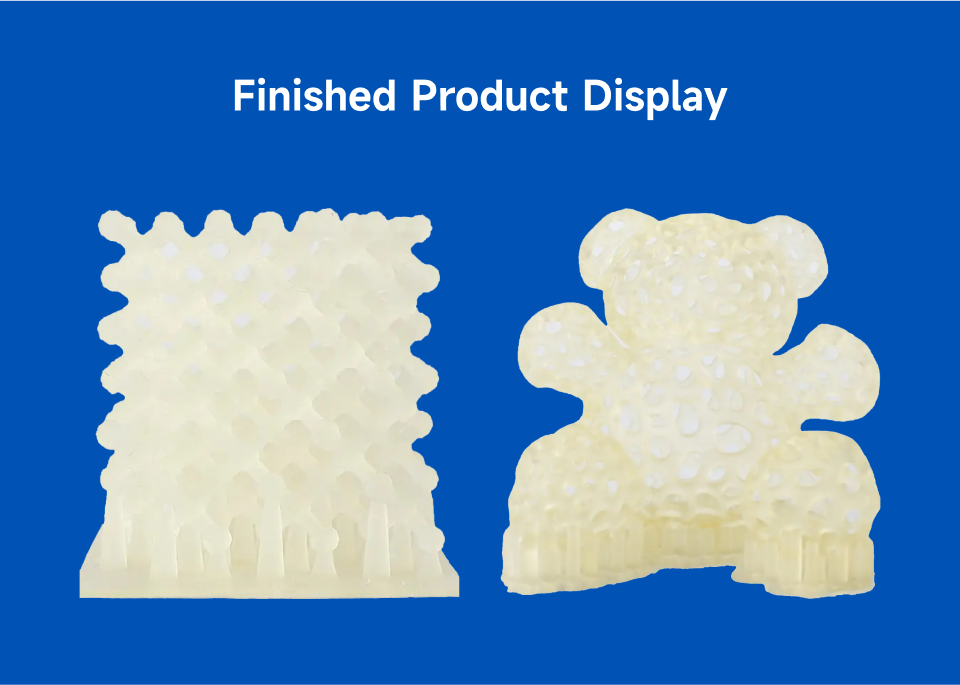 Resin-Elastic
| | |
| --- | --- |
| 3D PRINTING PHOTOPOLYMER RESIN | Resin-Elastic |
| Viscosity(mPa·s) | 500-900 |
| Density(g/cm3) | 1.080-1.085 |
| Tensile Strength(MPa) | 4-5 |
| Elongation at Break(%) | 250-350 |
| Flexural Strength(MPa) | / |
| Impact Strength(J/m) | / |
| Tearing Strength(GPa) | 8-10 |
| Heat Distortion Temp(℃) | / |
| Hardness(Shore D) | 70A |
Contact now
Product Details
---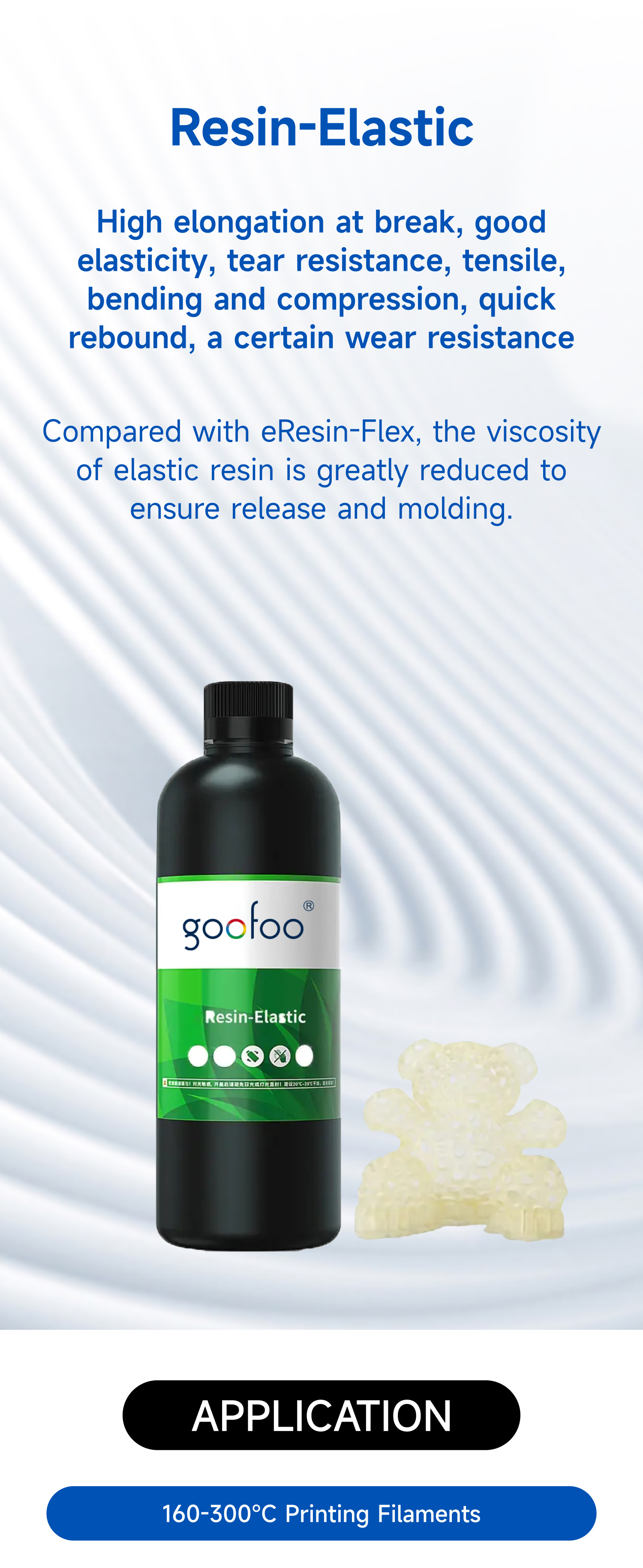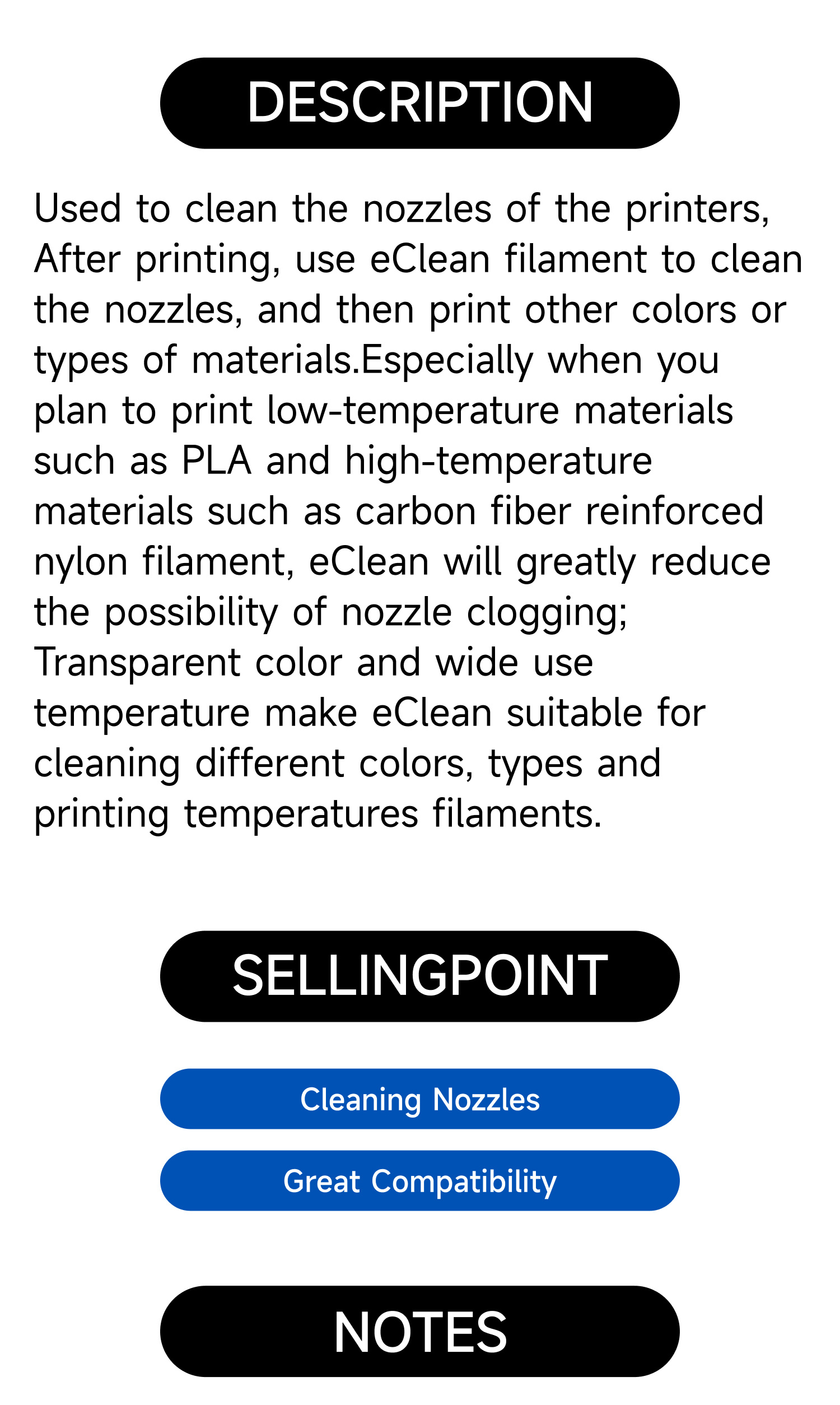 Product Features:
【Flexible Resin】Similar to TPU. High Flexibility. High Elasticity. Hardness 85-90A. High Toughness. Wear Resistance. Tear Resistance. Good Resilience. Bendable, Stretchable and Compressed. Special Designed for LED Light Source.
【High Precision & Low Shrinkage】eSUN Flexible Resin contains polyurethane acrylate monomers as to reduce volume shrinkage during the photocuring process, which ensures the high precision of the print model with smooth finish.
【Excellent Fluidity & Great Stability】Rapid UV Resin ensures the strength of molded parts and not excessive shrinkage, but also improve print speed, shorten the curing time and enhance the printing efficiency of LCD machines.
【Professional LCD Molding Resin】With high quality pigments and photo-initiators, the models printed have a pure and stunning color. Compatible for most LCD 3D printers for fast prototyping with toys, art and craft, home tools or jewelry making.
【Safe Packaging】Net Weight: 500g. Thickened aluminum bottle completely protected from light. Leak-proof bottle fully wrapped with a plastic bubble bag to make sure the resin stays in place where they belong.
NOTE:
1.Shake well before printing
2. Slice setting:
Stronger support: Avoild break with main body
Denser support:Avoid deformation dislocation
3.Printing data
Higher lifting distance: full film realse
Lifting distance:≥6mm
Slowing down Lifting speed: avoid breaking
Lifting speed: ≤60mm/min
Control leveling time: full leveling
Light off delay≥6s
4.Post Curing
Properly control the post curing time, the longer the exposure time, the higher the hardness of the curing material, the worse the flexibility, and the heavier the yellowing
To ensure good flexibility of the material and avoid hardening problems caused by post-curing, it is recommended to clean the printed parts after printing instead of post-curing
The surface sticky hand condition will be gradually improved under the indoor weak light condition. Avoid strong light exposure for later storage
I have a new Cube. After connecting to WiFi, the app says "Heating..." but any button that I click on brings a message that says "Printing." I can't do anything with the machine. Serial number HJNLM0004C75250A53C3
Hello, Thanks for your inquiry regarding our 3D printers. Goofoo is a leading 3D printer manufacturer, specializing in delivering high-quality and reliable machines for various industries. We will come back to you asap with details.

Address: No.88-3, North Tongji Road, Xike County, Tong'an District, Xiamen, Fujian China